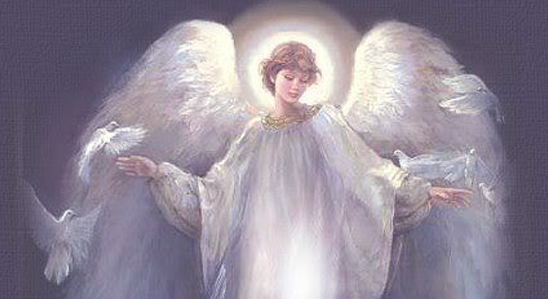 Encountering the angels
A lot of people who attend one or more evenings, tell me that the energy of the angels lasts for several days and brings them intense joy. Angels don't belong to me, there are here for every one. I try to encourage you to create your own experience and to acknowledge and recognise them, enjoy it and pass on their joyfull energy.
I teach the following :
Basic course: how to work with your angels?
- What are angels, why are they here, what is their purpose?
- What can angels do and what do they have permission to do?
- How to talk to (or with) your angels.
- How to experience them.
- The different between the power of our thoughts (the mind) and the power of the angels.
- Cosmic laws and angelic laws.
- Practical tips.
- Meditation to experience the angelic energy.
- How to contact your own guardian angels.
I use a powerpoint presentation so you can visualise, and have personal experiences. We read angelcards and experience meditations.
Angels & finances
For the course you will need 10 bills of 5 euro or dollars.
Angels and money, it seems a strange combination yet they have more in common then you might think. By using an interactive presentation we discover what the angels can do for us and our financial situation. We investigate how the angels are trying to make contact with us and how we can come to a deeper understanding and an intense contact with the angels.
Angels before and after 2012
What was all this commotion in 2012 about? Nothing changed or has it? We look at 2012 seen from the angels point of view. We have a look at relationships, relationships as in partnerships, parent-child(ren) relations, and assistance to find what our soul is searching for. How does one soul relate to another? This may give us an understanding about the different relationships in our own life.
The story of angels
How does a person come into this world? What does a soul bring? Does it have guidance? How is this guidance present?
A discovery from the source down to this reality.
Angel cards
How do you choose them, what do they mean? What can you do with them for yourself or to help others? We experience how to relate to the cards and to the person they are intended for. What are the possibilities and what are the pitfalls? We are going to play and exercise, after all your own experience means so much more than what anyone might tell you.
Practice evenings
On a practice evening I will tell you about one or two specific angels. After that we will experience how to get in contact with the specific angel. It is really fun to experience that you too can feel their energy and maybe receive specific guidance or messages.
Practical information
Every course can be taken separately. I teach during the day but mostly evenings. Every course takes about 2.5 to 3 hours.There is one exception for the practical evenings - you can only take part in the last evening only if you have been present at the previous one. If you are interested in organising any of the above, please contact me at annelies@engelen-info.be
You can contact me via this address annelies@engelen-info.be